As a valued member of the Cochrane & District Chamber of Commerce, you are also a part of the Alberta Chambers of Commerce. Since 1937, the Alberta Chambers of Commerce provides a powerful voice on behalf of the business community by speaking out on issues such as taxes, transportation, and education.
Your financial support of a local Chamber of Commerce ensures a resource of information and services for the business region that it serves. By supporting the Alberta Chambers of Commerce, you are supporting all the business communities in Alberta.
MEDIA RELEASE—February 3, 2020
For immediate release
Taxes, franchise fees top cost barriers to Alberta business
Alberta businesses cite taxes and franchise fees as top barriers to their growth and sustainability, recent Alberta Chambers of Commerce market research reveals.
Of the government costs that research respondents identified as barriers rather than benefits to their success, insurance premiums tax (69 per cent), small business tax (58 per cent), corporate income tax (57 per cent), and municipal franchise fees (54 per cent) top the list.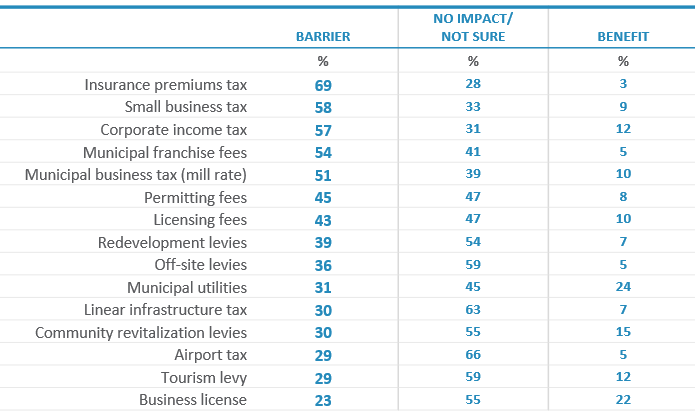 Businesses most frequently cited corporate income tax (25 per cent), small business tax (15 per cent), municipal business tax/mill rate (13 per cent), and insurance premiums tax (12 per cent) as presenting the single greatest cost barrier to their business. On the other hand, respondents most commonly identified municipal utilities (21 per cent), business licences (16 per cent), and community revitalization levies (11 per cent) as costs that provide the single greatest benefit to their business.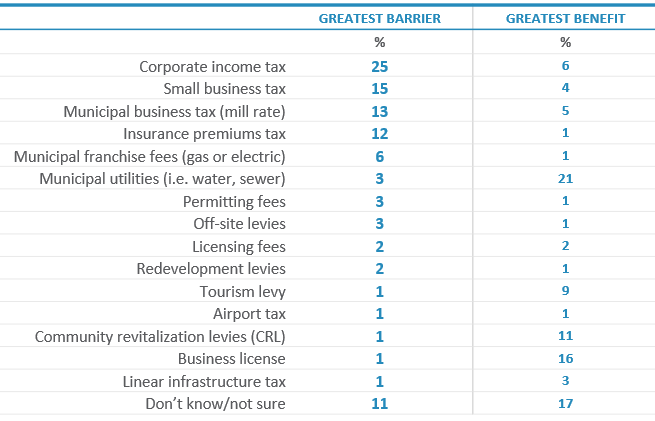 "These data clearly illustrate the combined impacts that municipal and provincial costs have on Alberta businesses," says Ken Kobly, Alberta Chambers of Commerce President and CEO. "At a time when Alberta job creators are facing increasing threats to their competitiveness, it's especially important to look at the layered costs on business rather than focusing on a single policy or a single order of government. With rising unemployment throughout the province, it's vital government officials at all orders consider the cumulative impacts of their policies and the implications for job creation and economic growth."
These findings are part of the Alberta Perspectives market research program—a multi-phase market research initiative conduced by the Strategic Counsel on behalf of the Alberta Chambers of Commerce. Survey two of the program garnered 1,028 business responses between October and November 2019.
The final market research report is available 
here
 .
MEDIA RELEASE—January 28, 2020
For immediate release
Alberta Chambers releases budget recommendations
Recommendations focus on strengthening fiscal competitiveness
The Alberta Chambers of Commerce released its recommendations for the 2020 provincial budget today. The recommendations—which were sent to Finance Minister Travis Toews—focus on strengthening Alberta's fiscal competitiveness through accountable government.
The Alberta Chambers network's recommendations for Alberta's 2020 budget follow.
Continue to freeze operational expenditure growth until the budget is balanced.
Negotiate government labour agreements due for renewal with a target of zero staffing increases and zero per cent salary increases. This target should remain in place until the currently depressed labour market has rebounded sufficiently to justify wage growth.
Ensure that Alberta's small business corporate tax rate does not exceed the lowest tax rate in other Canadian provinces or territories.
The recommendations are supported by data recently collected through the Alberta Perspectives market research program, which show business confidence at both the municipal and provincial levels is suffering. More information on these findings is available here.
The Alberta Chambers' full budget submission is available here.
Fall Board Meeting and Deputy Ministers' Dinner
Peter MacKay delivers love letter to Alberta from Atlantic Canada
The ACC recently hosted our 18th annual Fall Board Meeting and Deputy Ministers' Dinner. This year's event featured record attendance, including 23 chambers of commerce and 26 senior public servants who generously shared their time and knowledge over dinner. Thank you to all who attended for your engagement!
Highlights included:
A keynote address by Tanya Fir, Minister of Economic Development, Trade and Tourism
A local red tape reduction panel featuring Rural Municipalities of Alberta and Alberta Urban Municipalities Association representatives as well as ACC President and CEO Ken Kobly
A discussion of Alberta's pivotal role in Confederation by Hon. Peter MacKay
An exploration of the fiscal implications of the Fair Deal Panel by Katherine White, former chief economist of Alberta
A dinner and Q&A period with 26 senior public servants representing nearly every provincial government ministry
Headlines & News
Expanded economic tools for municipalities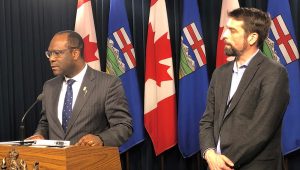 The Alberta government introduced legislation to allow municipalities to offer property tax incentives to business owners for machinery and equipment.
Daylight saving time survey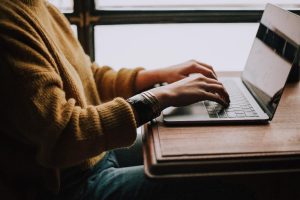 The Alberta government is currently surveying on daylight saving time. The survey is open until December 10.
Highlights & Events
2020 Economic Outlook Conference

The Economics Society of Northern Alberta (ESNA) is hosting its annual Economic Outlook Conference on December 5 in Edmonton. Featuring some of the most influential thinkers on economic issues in Alberta, this year's event will cover topics including trade, energy policy, and economic diversification. Tickets are on sale now through Eventbrite!

Alberta Perspectives market research
Action needed!
We want to hear directly from Alberta businesses on their priorities for removing red tape and improving services and access to capital.

Please take our short survey here. It should take less than ten minutes to complete and must be done within one sitting.

Join hundreds of other business leaders who are sharing their insights and helping shape their future. It only takes a few minutes to share your answers and help us build a better environment for #ABbiz.
Budget 2019 highlights for chambers and survey two
Yesterday, the Alberta government released its first budget – a prudent document designed to return Alberta to stable financial footing. We have prepared a brief overview for member chambers here. While we will continue to analyze the budget and follow up as needed, we are not expecting any major surprises.

Budget 2019 reflects the Alberta chamber network's Vote Prosperity election campaign priorities, following through on many of our recommendations (highlighted in our letter to Finance Minister Toews), including:

3 recommendations for Improving Government Accountability:

·     Balancing the budget by 2022-23 without making drastic cuts, with a $584 million surplus projected in 2022-23

·     Eliminating operational spending growth with a 2.8% reduction over four years – a reduction of 3 cents on every dollar

·     Developing the budget following a thorough review of government services and expenditures

3-4 recommendations for Building Healthy Communities:

·     Ensuring K-12 education connects learning to real-world skills and endeavours

·     Reforming healthcare to reduce costs and improve outcomes

·     Implementing a new predictable and sustainable funding formula for municipalities that uses population estimates to better allocate funds

Municipal Affairs will now align funding to municipalities with provincial priorities. We will be encouraging the Alberta government to ensure this approach supports regional infrastructure planning focused on economic impacts.

Our network is currently surveying on this issue. Based on feedback from participants who did not complete the survey, we've taken steps to make it more mobile friendly and easier to navigate. Please continue to circulate within your networks and encourage those who haven't completed the survey to do so!
You can read ACC President and CEO Ken Kobly's full comments on Budget 2019 here.
"Alberta is at a crossroads, where the government's actions will have a profound impact on the health of our province and our economy for years to come. We asked for a comprehensive review of government finances, with all options on the table to restore our province's fiscal health – recognizing that this would mean some tough choices."
ACC President and CEO Ken Kobly on Budget 2019