Every year, we join together to celebrate the incredible diversity of local businesses that our community has to offer. Your Cochrane & District Chamber of Commerce is committed to the continued growth and prosperity of not only our town but the small businesses that help create jobs and unique opportunities for everyone.
Below is a listing of just some of the events and promotions happening in our community during Small Business Week! Want to add your business information here? Reach out to Kelly Sinclair, Secretary at secretary@cochranechamber.ca!
Hosted by The Cochrane & District Chamber of Commerce
Small Business Week Free Breakfast Event
Details:
Join the Cochrane & District Chamber of Commerce as we celebrate small businesses with a FREE breakfast event.
When: October 21, 7-9 a.m.
Where: Cochrane Ranchehouse (Aspen Room)
*Tickets are free but we do ask you to register at cochranechamber.ca/events
This is open to both members and non-members!
The event is an opportunity to hear updates from The Chamber, share your ideas and network with other small business owners.
Story Magic - A workshop to develop your brand story
Hosted by Kelly Sinclair of KS Communications
Details:
Want to know the ONE thing that will make your marketing better? 
It's a strong brand story. So simple, yet so powerful. And I know you have a great one in you!
I can help you figure it out. 
Here's where you might be stuck right now:
Not knowing what to say on social media, or really anywhere, so you just don't say anything

Not thinking you have a story that's important or impressive

Not feeling certain about who your ideal client really is

Not getting the traction you want with your marketing
When you know what to say, and who to say it to, marketing is EASY. And, when marketing is easy, you get your message out there and get to make the impact you are made to have with your business. 
If you're passionate about your business and how it serves people, I'd love to see you at the Story Magic Workshop. 
It's a full-day, in-person workshop where we will:
Work through my magic brand formula: brand story = who you are + who you're for + why it matters

Uncover your brand values and how they show up in your business

Identify and really understand who your ideal client is (so you know who you're looking for)

Craft your brand story in a way that you can't wait to start sharing it everywhere! 
Seats are limited, which means there will be opportunities for personalized feedback throughout the session. 
BONUS: In addition to the workshop, you will be granted immediate access into a private Facebook group with Kelly so you can make new business connections, ask questions and get feedback.
Cost: $249 plus GST
For more details and to register: www.ks-communications.ca/workshop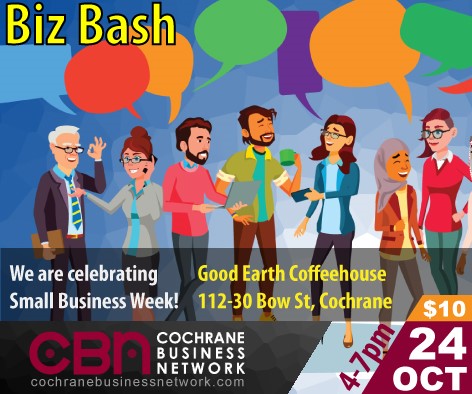 Hosted by Cochrane Business Network
Details:
Time to register for our Small Business Week After Hours Networking Event.
Click on this link to Register
https://cochranebusinessnetwork.com/
We will be meeting at Good Earth Coffeehouse on October 27th from 4-7.
We would love to have you join us if you are looking to meet more like-minded business folks in your Community.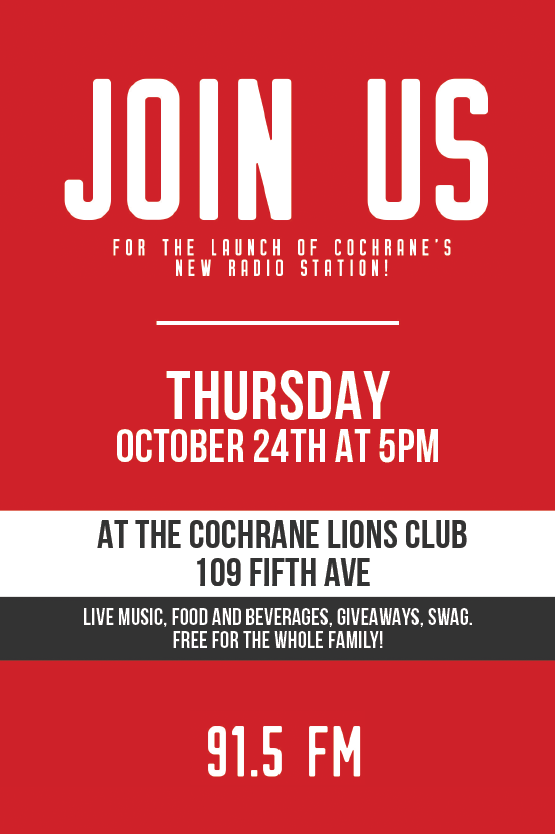 Details:
Have you heard the news, Cochrane?
We are getting a radio station! 91.5 FM - Launching this Thursday, October 24th & you are all invited!!
Live music, food and beverages, giveaways, swag, free for the whole family!